---
PenPal HayBoss Feeder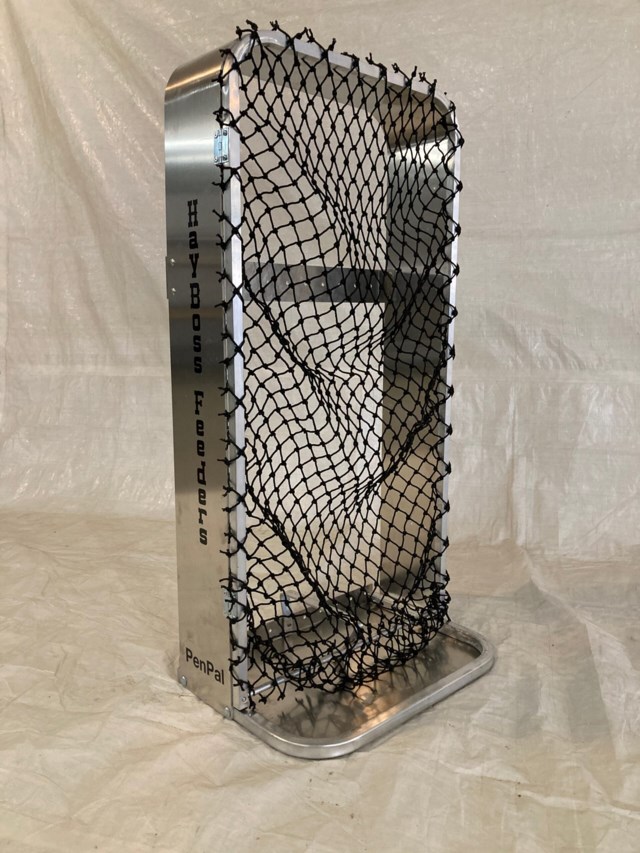 This awesome feeder was designed to make feeding small square bales quick, easy, efficient and clean. Simply unlatch the net frame, place the bale inside and relatch the net frame. Use it in conjunction with the HayBoss Hay Buddy and make your chores even easier. The PenPal is easy to assemble, easy to install and easy to use. You and your animals will love The HayBoss Feeders Penpal.
Organization

HayBoss Feeders Inc.

Value

$515.00

Starting Bid

$52.00

Reserve

$335.00

Available

3
---
Items - 3 Available
| # | Bid | Status | By | Date |
| --- | --- | --- | --- | --- |
| 1 | $335.00 | Purchased | Ryansmith28 | |
| 2 | $335.00 | Purchased | Anonymous | |
| 3 | $52.00 | | - | - |
---
This auction closed on Monday, March 27, 2023 8:00:00 PM.
Closed on Monday, March 27, 2023 8:00:00 PM
---

About HayBoss Feeders Inc.
The HayBoss Feeder is a multi-species forage feeding product that has a patented design that keeps the feed off the ground and in place, resilient to wind, rain or snow. This revolutionary new netting and secured platform system encourages the animals to regulate their eating habits, therefore resulting in healthier and happier animals. Because of the feeders unique controlled feeding system, it promotes overall health and frees up time and money for anyone using it.
With a full line of quality parts to back the product, constructed with galvanized steel and very durable materials, the HayBoss Feeder is built to last.
And with the Jubinville family having over 30 years in the manufacturing industry, HayBoss Feeders became number 1 in the forage feeding industry for their ingenuity and innovation.
Watch our testimonial videos and see for yourself why more and more people are using the HayBoss Feeder for all of their hay feeding needs.
54320 RR 253
Address

54320 RR 253

Phone

780-807-1814